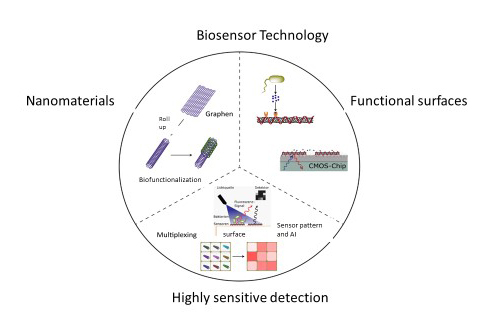 At the Fraunhofer IMS we investigate biofunctional sensors as tools with enormous potential in diverse fields of applications. One of our main goals is the development of biofunctional sensors for applications in medical diagnostics.
Current and future challenges in modern diagnostics require novel biosensing methods which enable rapid point-of-care testing for personalized medicine. Aside from the current only the Covid-19 pandemic, the growing problem of infections caused by antibiotic-resistant hospital germs, presents an important problem for which, fast and specific tools for pathogen detection are and will be required in in the future.
The newly founded research group "Biomedical Nanosensors" at the Fraunhofer IMS is headed by Prof. Sebastian Kruss and aims to develop biosensors by 2025 that can, among other things, detect pathogens such as bacteria and corona viruses in real time. Based on the technologies developed, we aim to integrate biofunctional sensors into "smart surfaces", e.g. for use in medical instruments. Other important application areas for which biofunctional sensors are being developed at the IMS are process monitoring in food, antibody and pharmaceutical production as well as environmental analysis.
The focus of our development is on optical sensors for in-situ detection, which offers the advantage of a contactless and non-invasive readout in real time. Ideally, this means sensor technology without sample collection and time-consuming sample preparation. To this end, new functional structures are being researched that are based on fluorescent nanomaterials as a building blocks that can be chemically modulated. This allows the combine nanomaterials and biofunctionalization with the advantage of fast optical remote detection. The nanomaterials are extremely sensitive to change in their immediate molecular environment. Additionally, they are on the same size scale as many biomolecules. This way, Prof. Kruss et al. have already been able to demonstrate sensitivities up to single molecule detection and record the release of certain chemical messenger molecules from cells in real time. (see www.pnas.org)
The key to differentiated diagnostics with biosensors is multiplexing, with which, a differentiation of many different bacterial strains with an array based on biofunctional sensors has already succeeded. (see www.nature.com).
This could open up new possibilities in areas of medicine where rapid differential diagnosis is important. In areas such as in the early and rapid identification of bacteria in patients with sepsis this is extremely important and can even save lives. Using the advantages of an optical readout and the together with the benefits of a near infrared detection, we aim to exploit the potential of biofunctional sensor arrays for the use in joint prostheses, where contamination with pathogens and often multi-resistant germs is one of the main causes of serious complications.