FIRST EQUIMEDI DEVICES SUCCESSFULLY DELIVERED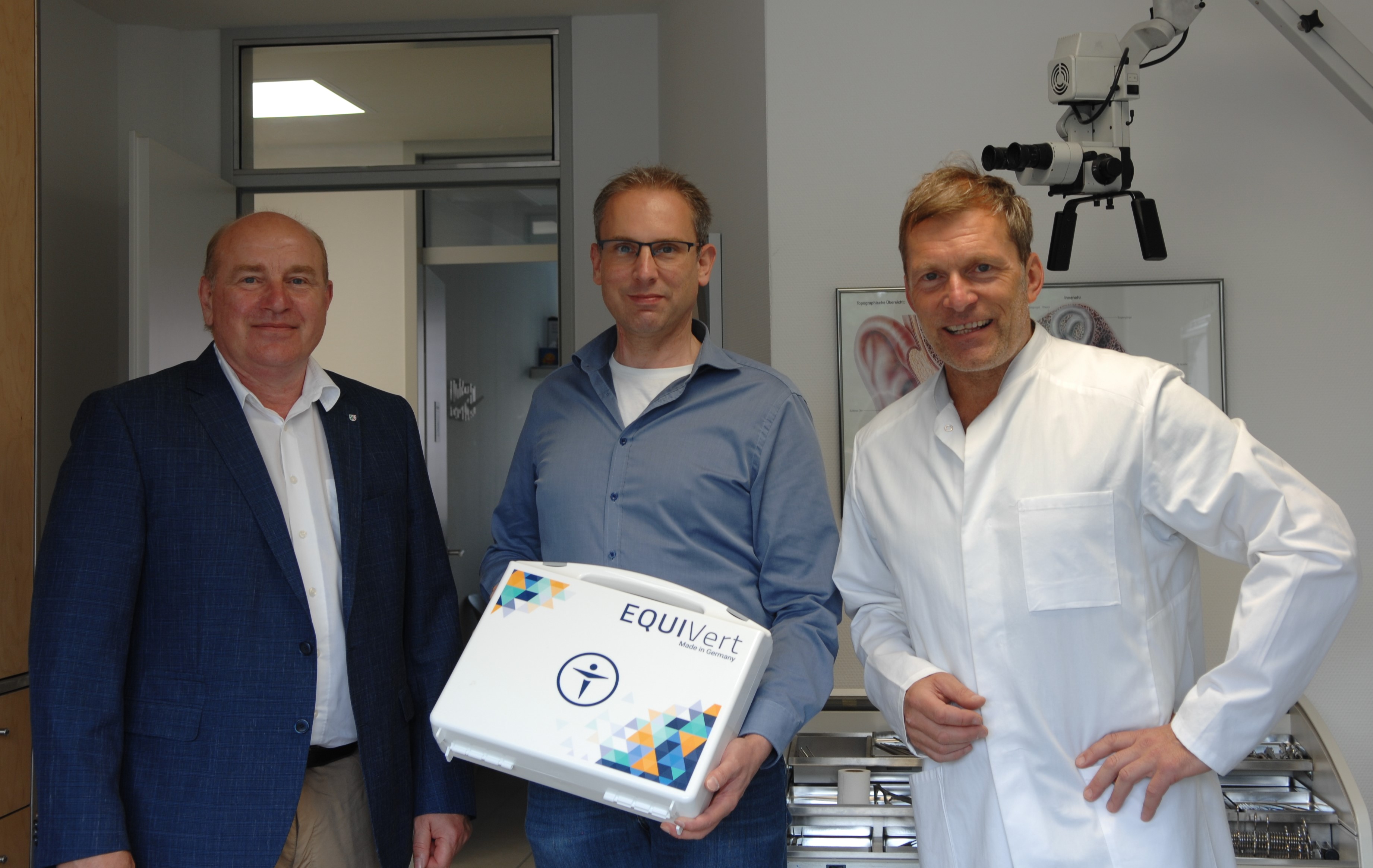 Last Wednesday, the EQUIVert team started delivering the first EQUIMedi devices. One device was personally handed over to Dr. Uso Walter for his practice. He is chairman of the board at HNOnet NRW eG, which helped develop the EQUIVert products. "I am delighted to finally hold the finished product in my hands and now be able to use it", explains Dr. Walter.
Burkhard Heidemann, department head at the Fraunhofer Institute for Microelectronic Circuits and Systems IMS, was also present at the handover. The Fraunhofer IMS and the University of Duisburg also contributed to the development of the EQUIVert products. "As one of the fathers of the EQUIVert idea, I am proud to see the products now on the market. It is a particular concern of mine that patients can be helped with EQUIMedi", explains Heidemann.
EQUIMedi is the measuring device for medical professionals. Measuring patients yields valid and verifiable data on fluctuation behavior. This can support medical professionals in their diagnosis, for example by enabling conclusions to be drawn about different causes of dizziness. EQUIMedi represents a real alternative to conventional posturography systems. In addition to the mobility and lower price of the device, the range of functions is also greater. Various dynamic and static tests can be performed, while other posturography systems offer the possibility of measurement only with the patient standing still. In addition to various balance tests (e.g. Unterberger pedal test or Romberg test), the switchable biofeedback can also be used to train balance. "We have created a great product after years of development work. Now we can finally start selling it!", says Hanno Platz, Managing Director of GED mbH.
The EQUIMedi can be purchased in the webshop at shop.equivert.de.